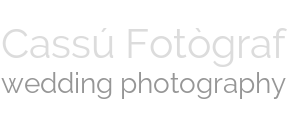 If you need a photographer I'm ready
professional photography in Girona
WEDDING PHOTOGRAPHY AND PORTRAIT = LIGHT + EMOTIONS
Photographer specialized in social events, weddings and portrait.Studio located in Castelló d'Empúries,Girona.I go anywhere in the world to get the best photos of your wedding, pre-wedding or post-wedding or just a family shotting... I'm a lifestyle photographer.

I carry out weddings throughout the Costa Brava. From Cadaqués to Blanes and Barcelona. If you get celebrate your wedding in La Farinera Sant LLuís,El Cortal Gran,Castell de Perelada,Castell Empordà,Convent de Blanes, Mas Torroella ... you can hire the services from Cassú Fotògraf that I will be delighted to be the photographer on your wedding day.
I love traveling and capturing the essence and the moment of each couple, be it photographing weddings in IBIZA,weddings in MALLORCA or weddings in GIRONA.
Capturing those unforgettable moments of your wedding is my passion.
My photographs are captured from my point of view. You will have the best moments that you can remember in the images of your wedding or photo shooting.
A natural,emotional,fresh style of photography,without artificial retouching and sometimes with a focus on fashion and lifestyle ... but,it is important that the final image is a palpable memory of moments lived.
Photo albums taken care of in detail.Bound by hand to be able to keep printed those images of your day.
Jordi Cassú with total dedication, personalization and exclusivity.I carry out only one event per day.
to the phone: 607830783 or via mail: jordi@cassufotograf.net